5. Jack and Sally from
The Nightmare Before Christmas
One of my favorite movies from my childhood and I have always had a soft spot for these two. It was sad watching Sally as she longed after Jack and kept doing looking out for him through out the movie but Jack was to fixated on Christmas to realize it. And just when she finally gives up hope Jack finally comes to his senses and goes and gets him woman.
4. Angel and Collins from
Rent
My favorite musical and Collins is my favorite character. They seem to have the most stable relationship and both of them seemed to surely understand how lucky they were to have found someone that really cared about them. Unlike the other characters you do not see them having any pissing contest in their relationship. Instead they just seem to enjoy the time they have together because tomorrow they may not be here. And when you can make me cry during a movie is a pretty good relationship.
3. Christian and Oliver from Verbotene Liebe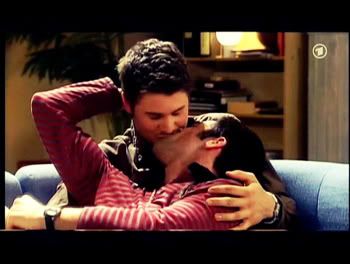 They were a random YouTube find. It was one of those days where I had a shit load of time to kill so I started at part one and just kept watching. The story was pretty entertaining and it was filled with soap drama so I really enjoyed it. Both characters have been through a lot and they have a very strong relationship, which can be a bit unusual in the soap world. They have their big dramatic scenes but they normally make up instead of letting it screw up what they have.
2. Jean and Scott from X-Men
I am sure it will come as no surprise that I am a huge X-Men dork. Now while I like both characters neither one of them are my favorite but I cannot deny that these two are my favorite couple from the comic. No matter what universe they are in at some point these two are going to get together. They are the all American couple. Even when they break them up or kill one of them (normally Jean) you know they are going to end up getting back together. They try to pair them with other characters but it never works for me, all you are going to get is a second rate couple if it is not Jean and Scott.
1. Beecher and Keller from Oz (I know a real shocker)
Really nothing else stood a chance compared to these two. Oz was the first show that I ever became obsessed with and it was not just due to the Beecher/Keller story it was the whole damn thing but B/K is my favorite. I could go one foe a really long time about the awesomeness of their love/hate relationship but I think I will take the express route. A very creative story line + really good writing + great actors = best OTP of all time.
Ok I saw this floating around and I felt like throwing mine in to the pot.