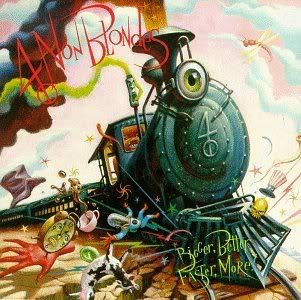 Artist Info:
4 Non Blondes were an early-1990s American alternative rock band. Lead vocalist Linda Perry has since released solo work and produced songs on hit albums by P!nk and Christina Aguilera.
4 Non Blondes consisted of bassist Christa Hillhouse, guitarist Roger Rocha , drummer Dawn Richardson and vocalist Linda Perry.
4 Non Blondes had a huge hit single in 1993 with "What's Up". A year later, DJ Miko remixed the track as a dance song, and it became a hit again, on radio and in clubs.
In 1995, 4 Non Blondes contributed the song "Misty Mountain Hop" to the Encomium tribute album to Led Zeppelin. Linda Perry went solo in 1996 and the group disbanded after recording, but not releasing, their second album.
Track Listing:
1. Train 3:42
2. Superfly 4:37
3. What's Up? 4:55
4. Pleasantly Blue 2:28
5. Morphine & Chocolate 4:44
6. Spaceman full track 3:40
7. Old Mr. Heffer 2:16
8. Calling All The People 3:17
9. Dear Mr. President 4:43
10. Drifting 3:31
11. No Place Like Home 3:11
4 Non Blondes, Bigger, Better, Faster, More!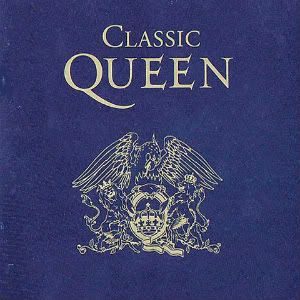 Artist Info:
"Queen" was an English rock band originally consisting of 4 members: Freddie Mercury, Brian May, John Deacon, and Roger Taylor.
The band formed in London in the early 1970s after May and Taylor's former band "Smile" split after having released an album and single. Freddie replaced Tim Staffell as vocalist, and John Deacon joined in February of 1971, playing bass for the band that Freddie renamed "Queen".
Queen's first self titled album was released in 1973 and received little attention from the general public. They quickly followed it with a second album, "Queen II" which also failed to generate much interest from music fans in Britain. Despite this, the band began developing a huge following in Japan and witnessed their popularity for themselves when they visited the country, mainly in 1975, to promote their fourth and most famous album "A Night at the Opera", featuring the epic "Bohemian Rhapsody".
Queen's popularity grew steadily through the latter half of the 70s as they released hit album after hit album, reaching its peak in the mid-80s after their "Live Aid" appearence, and continuing into the early 90's before Mercury's untimely death on 24th November 1991. The official cause of death was bronchial pneumonia resulting from AIDS.
Over the course of their 30 year career, the band did sound tracks for three films ("Flash Gordon", "Legend" and "Highlander"), released a string of live and studio albums, and had many many fans across the world.
In 1995, 4 years after Mercury's death, the band released the album "Made in Heaven". This album saw the surviving band members in the studio completing or reworking unused vocals, unreleased variations of Freddie solo material (a "Queen" version of "I Was Born to Love You" for example), and tracks where Brian and Roger added lyrics to flesh out a song ("Mother Love").
Track Listing:
1. A Kind of Magic 4:16
2. Bohemian Rhapsody 5:55
3. Under Pressure 3:46
4. Hammer to Fall 4:23
5. Stone Cold Crazy 2:14
6. One Year of Love 4:26
7. Radio Ga Ga 5:49
8. I'm Going Slightly Mad 4:22
9. I Want It All 4:01
10. Tie Your Mother Down 3:44
11. The Miracle 5:02
12. These Are the Days of Our Lives 4:15
13. One Vision full track 5:09
14. Keep Yourself Alive 3:48
15. Headlong 4:38
16. Who Wants to Live Forever 5:14
17. The Show Must Go On 4:34
Queen, Classic Queen
Artist Info:
Jay Brannan is a Texas born singer, actor, and songwriter. After finding homes all over the country to live in, and briefly attending University of Cincinnati's acting school, he decided to plant his feet down in New York City. He played the role of Ceth in "Shortbus", an indie film directed by John Cameron Mitchell. Relatively new to the music world, he has released several songs on iTunes and on his myspace page, has become extremely popular thanks to his YouTube profile, and has been keen on maintaining a self-produced, low-key website.
His songs hold many of the same universal themes other artists acclaim to, but with a more fresh, realistic, sometimes vulgar, understanding. This has made him a hero to other gay men and general audiences alike
Track Listing:
1. Beautifully 3:13
2. Say It's Possible 3:25
3. All I Want 4:05
4. Blowin' In The Wind 2:02
5. The Freshmen 4:15
6. Good Mother 3:10
7. Both Hands 1:27
8. Zombie 3:12
9. Drowning 4:24
Jay Brannan, In Living Cover
Artist Info:
Yeah Yeah Yeahs is an alternative rock band formed in New York City, New York, United States in the late summer of 2000. The band consists of Karen Orzolek (vocals), Nick Zinner (guitar, keyboards) and Brian Chase (drums).
Their music melds genres ranging from new wave to art punk and garage rock using heavy guitars, synthetic sounds, and screaming, erotic, bluesy vocals. Karen O is known for her energetic, animated stage presence, complemented by her outrageously colorful costumes designed especially for her by friend Christian Joy.
YYYs have recorded three studio albums: "Fever to Tell" and "Show Your Bones" and "It's Blitz!", as well as three EPs: "Yeah Yeah Yeahs" EP, "Machine" EP and the "Is Is" EP, which features songs written during the "Fever to Tell" era that were not recorded until 2007.
Nick Zinner also plays in Head Wound City, a thrash metal supergroup with members of the Blood Brothers and The Locust, and has toured with Bright Eyes for his album, Digital Ash In A Digital Urn. Brian Chase has an active side project in the form of his improvisational band, The Seconds.
In 2005 Karen O collaborated with Kool Keith on the track "Teaser", which was said to be on the porn film "Deep Throat vs. Lialeh" soundtrack, though this was never officially released. For the movie "Jackass 2", she collaborated with Peaches and Johnny Knoxville to record a track entitled "Backass". In 2007 she contributed vocals to a version of "Highway 61 Revisited" by Bob Dylan for the "I'm Not There" soundtrack. She also appears on the soundtrack of the forthcoming film adaptation of "Where The Wild Things Are", directed by Spike Jonze.
In 2008, Nick Zinner and Karen O both appeared on the Tiny Masters of Today album, Bang Bang Boom Cake. Karen also directed the video for their song "Hologram World".
The third full-length album, It's Blitz!, was originally set for release on April 13, 2009, however after being leaked to the Internet on February 23, the release date was pushed forward to March 9 for the digital version and March 31 for the CD, with an April 6 release for the rest of the world. The first single Zero was released on February 24, 2009. The album was produced by the band's long-term producer Dave Sitek, along with Nick Launay.
Track Listing:
1. Zero 4:30
2. Heads Will Roll 3:43
3. Soft Shock 3:53
4. Skeletons 5:02
5. Dull Life 4:09
6. Shame And Fortune 3:32
7. Runaway 5:14
8. Dragon Queen 4:02
9. Hysteric 3:50
10. Little Shadow 3:56
11. Soft Shock (Acoustic) 3:25
12. Skeletons (Acoustic) 3:30
13. Hysteric (Acoustic) 2:53
14. Little Shadow (Acoustic) 2:53
Yeah Yeah Yeahs, It's Blitz
Artist Info:
Le Tigre is a feminist dance-punk trio. They were formed in 1998 by Bikini Kill vocalist Kathleen Hanna. Initially envisioned as a live back up band for Hanna's solo moniker Julie Ruin, Le Tigre mixed the politics and feminism of riot grrrl with fun electronic samples and lo-fi beats. Other members included Johanna Fateman and JD Samson. JD joined Le Tigre as a full member when co-founder Sadie Benning left the band before the Feminist Sweepstakes album. JD had previously worked with the band as the roadie and operator of the slide show created by Sadie Benning for Le Tigre's live performances of the first record. The self-proclaimed underground electro-feminist performance artists combined visuals, music, and dance into their performances.
The song "Hot Topic" on Le Tigre's self-titled début pays tribute to dozens of visual artists, musicians, writers, feminists and others who have inspired them. Among the honorées are: Yoko Ono, Aretha Franklin, Vaginal Creme Davis, Yayoi Kusama, Sleater-Kinney, Billy Tipton, James Baldwin and Jean Genet. In a similar fashion the song "FYR" off the album Feminist Sweepstakes is a tribute to the chapter and ideals put forth in Shulamith Firestone's Fifty Years of Ridicule in her 1970 feminist work The Dialectic of Sex.
The first two recordings by the band were released on the independent label Mr. Lady Records, run by Kaia Wilson of The Butchies and artist Tammy Rae Carland. Feminist Sweepstakes (2001) came out on Chicks on Speed's record label. The album This Island (2004) was Le Tigre's first on a major label (Universal/Strummer). Ric Ocasek of The Cars produced one track, "Tell You Now."
Even after signing with Universal, Le Tigre has continued to work with independent labels. In 2005 they released This Island Remixes with Chicks on Speed.
In 2005 Le Tigre performed at the Michigan Women's Music Festival. The festival has been criticised for its women-born-women admittance policy, which prohibits transgender women from attending.
Le Tigre licensed two of their songs for use in advertisements by a Canadian telephone provider, Telus, and an Australian jewellery chain, Goldmark. A sample from "Deceptacon" plays in the background of a 2006 television commercial for Nivea cosmetics and is also used in the Norwayan movie Reprise by director Joachiem Trier.
In the second half of 2006, the band decided to take an extended break starting early 2007. Since then Kathleen has participated in The Willie Mae Rock Camp for Girls and taught an art class at NYU. JD Samson has toured as keyboard player with Peaches and made many DJ appearances, while Johanna Fateman has kept busy with a hairdressing salon in NYC's Greenwich Village. In 2008 JD and Johanna formed a new project, Men, that will do a DJ tour and record.
Track Listing:
1. Deceptacon 3:05
2. Hot Topic 3:45
3. Whats Yr Take on Cassavetes 2:22
4. The The Empty 2:04
5. Phanta 3:14
6. Eau d'Bedroom Dancing 2:55
7. Let's Run 2:34
8. My My Metrocard 2:54
9. Friendship Station 3:07
10. Slideshow at Free University 2:48
11. Dude. Yr So Crazy! 3:26
12. Les and Ray 2:11
13. Hot Topic (BBC Evening Session) 3:07
14. Deceptacon (BBC Evening Session) 3:09
15. The the Empty (BBC Evening Session) 2:02
16. Sweetie (BBC Evening Session) 2:43
Le Tigre, Le TIgre
So since October is LGBT History month I felt like doing something for it and since I love music I felt like uploading one album for each day of the month in which the artist/member of the band is/was a part of the LGBT community. Kind of got a late start on it so I am going to combine a few days in to a couple of post. This post is for the 1-5.