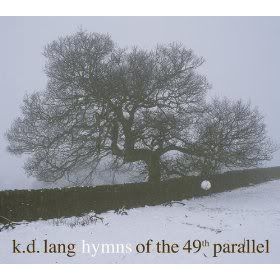 Artist Info:
Kathryn Dawn Lang, OC (born November 2, 1961), better known under her stage name, k.d. lang, is a Grammy Award-winning Canadian singer and songwriter. She is regarded as one of Canada's foremost female vocalists, as well as a champion of legal equality for LGBT people.
Her singing talent has lent itself to a wide range of genres, although earlier works, such as 'Angel With a Lariat' and 'Absolute Torch and Twang' (the last of which won her a Grammy Award for Best Female Country Vocal Performance) were predominantly country, with hints of jazz and salsa. Later works, including Ingénue and All You Can Eat, were more pop-ish in execution. No matter the genre, all left her talent undeniable. She has since garnered four grammys and many other awards, and was even made an officer of the Order of Canada in 1996, Canada's highest civilian honour.
Track Info:
1. After the Gold Rush 4:00
2. Simple 2:43
3. Helpless 4:14
4. A Case of You 5:104
5. The Valley 5:29
6. Hallelujah 4:59
7. One Day I Walk 3:25
8. Fallen 2:55
9. Jericho 3:44
10. Bird On A Wire 4:27
11. Love Is Everything 5:41
K.D. Lang, Hymns Of The 49th Parallel
So since October is LGBT History month I felt like doing something for it and since I love music I felt like uploading one album for each day of the month in which the artist/member of the band is/was a part of the LGBT community. Yes there are going to be repeat artist from here on out.