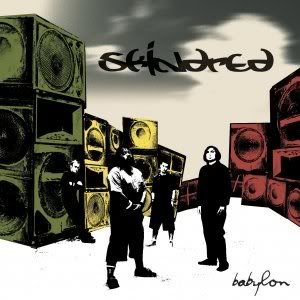 Artist Info:
Skindred is a four-piece "ragga metal" band from Newport, Wales. Their genre is an innovative mix of metal, punk, and reggae. The band was formed in 1999 following the disbandment of vocalist Benji Webbe's previous band, Dub War. Skindred blended reggae and dancehall with searing thrash and punk influences for a striking take on heavy metal hybridism. The group emerged from Wales in 1999, after the dissolution of vocalist Benji Webbe's previous band, Dub War. Rehearsals for a new project featuring other Dub War veterans (Jeff Rose and Martin Ford) didn't work out, but soon Webbe had hooked up with bassist Daniel Pugsley, guitarist Mikey Dee, and drummer Dirty Arya, and Skindred was officially born. The debut LP, Babylon, first appeared in 2002 and 2003, with sporadic success in parts of Europe and the U.S. metal underground. But it wasn't until a year or so later and Lava's involvement that the album really took off. Skindred re-released Babylon in August 2004. Lava's version featured different cover art, and included newly recorded material in addition to the original, Howard Benson-helmed songs. Skindred then headed out on a series of tours with acts like Sevendust, Nonpoint, and Papa Roach, and never looked back.
Similar Artist:
Dub War, Insolence, Planet Earth, Nonpoint, One Minute Silence, Ill Niño, Primer 55
Track Info:
1. Intro 0:29
2.
Nobody 3:55
3.
Pressure 3:30
4. Start First 2:48
5. Interlude 1 0:16
6. Selector 2:22
7. Bruises 2:41
8. We Want 3:00
9. Interlude 2 0:28
10. Set It Off 3:10
11. Firing the Love 3:36
12. Tears 3:00
13. World Domination 2:23
14. The Fear 3:45
15. Interlude 3 0:26
16. Babylon 3:33
17. The Beginning of Sorrows 3:50
18.
Pressure (Acoustic Version - Hidden Track)
Babylon
Track Info:
1. Roots Rock Riot 3:00
2.
Trouble 3:48
3.
RatRace 3:20
4.
State Of Emergency 4:01
5. Alright 3:08
6.
Destroy The Dance Floor 3:41
7.
Rude Boy For Life 4:08
8. Killing Me 4:17
9. Spit Out The Poison 3:45
10. Cause Ah Riot 3:02
11. Ease Up 3:57
12. Choices and Decisions
Roots Rock Riot
I have been lucky enough to see these guys live on two different occasions and they played a kick ass show both times. So I felt like sharing them with you guys.