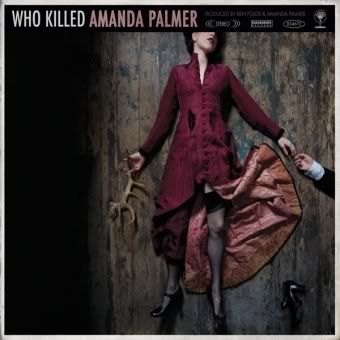 Amanda Palmer is the singer and pianist of The Dresden Dolls. Born in 1976, she grew up in Lexington, Massachusetts and received her B.A. from Wesleyan University. She attended Lexington High School, where she was very involved in the drama department. Amanda sometimes has Lexington High School students perform drama pieces at her shows. Before she was in the Dresden Dolls she was in a band called "Amanda Palmer and the Void". In October of 2000 she met Brian Viglione, a drummer; together they formed the Dresden Dolls.
In the 2005 WNFX/Boston Phoenix Best Music Poll Amanda Palmer won Best Female Vocalist.
Amanda has performed as a living statue called "The Eight Foot Bride" in Harvard Square as well as in many other locations.
Her solo album entitled "Who Killed Amanda Palmer" was released in September 2008, and was produced by Ben Folds, who also appears on the album. Zoë Keating also appears on several tracks.
In 2009 she pleaded with her label, Roadrunner Records, to drop her from their roster. She has been vocal about this in interviews and in concert even dedicated a song called "Please Drop Me" that is sung to the tune of "Moon River."
On January 15th 2010 writer Neil Gaiman announced on his official blog that he and Palmer were engaged to be married.
On March 30th, 2010, the album "Evelyn Evelyn" was released, as a collaborative work with Jason Webley.
On July 20th, 2010, Palmer released a solo EP of Radiohead covers, entitled "Amanda Palmer Performs the Popular Hits of Radiohead on Her Magical Ukulele".
Track Info
1. Astronaut: A Short History of Nearly Nothing 4:37
2. Runs in the Family 2:59
3. Ampersand 5:59
4. Leeds United 4:55
5. Blake Says 4:43
6. Strength Through Music 3:29
7. Guitar Hero 4:48
8. Have to Drive 5:50
9. What's the Use of Wond'rin? 2:50
10. Oasis 2:57
11. The Point of It All" 5:35
12. Another Year: A Short History of Almost Something 6:03
Who Killed Amanda Palmer?
Bif Naked (born Beth Torbert on June 17, 1971) is a popular Canadian rock artist who's been active since 1994. She was born in New Delhi, India, spent most of her formative years in Harare, Zimbabwe and Tammisaari, Finland only to be adopted in late adolescence by American missionaries in Papua Nuova Guinea; they eventually settled in Winnipeg, Canada. She graduated from John Taylor Collegiate and studied theatre at the University of Winnipeg. She had a cameo in the zombie horror film The House of the Dead which was filmed near her home in Vancouver, British Columbia. A noted poet, she has also released a spoken word album. She is heavily tattooed, getting her first when she was 16 of an Egyptian eye. Her tattoos now include a symbol of the Tao, Japanese writing, Buddhist poetry and images (such as the Bodhisattva), and Hindu imagery.
Bif has always been frank about her bisexuality, and the lyrics of her autobiographical songs detail her attractions to and relationships with both men and women. She is also a strict raw food vegan for health (as opposed to ethical or religious) reasons. She also identifies as straight edge.
TV Appearances:
Bif Naked was featured on the Buffy the Vampire Slayer soundtrack during the fourth season with their song 'Lucky'. They were actually shown on the show playing at one of UC Sunnydale's fraternity houses, with their song 'Moment of Weakness', but 'Lucky' was used as a play over. Bif also played a small role in an episode of L-Word (in season 3) as a character named "Cynthia".
She voiced the character Zoe Payne in the SSX (Snowboard Supercross) videogame series.
Awards & Recognition:
* Bif was in the top 10 sexiest women for "TV Week"
* at Much Music she was selected "Hottest Female with Tattoos"
* CFOX Vancouver recently named Bif the hottest celebrity, saying it was a landslide win
* XFM named her the sexiest female in music after an open polling on their radio.
Track Info:
1. Abandonment 3:13
2. Let Down 2:44
3. Everyday 3:26
4. Yeah, You 3:44
5. That's Life With Me 2:47
6. Nothing Else Matters 4:42
7. I Want 2:25
8. Funeral of a Good Girl 2:38
9. Henry 3:55
10. The World Is Over 2:48
11. The Question Song 4:18
12. Ladybug Waltz 4:01
13. After a While 4:50
Superbeautifulmonster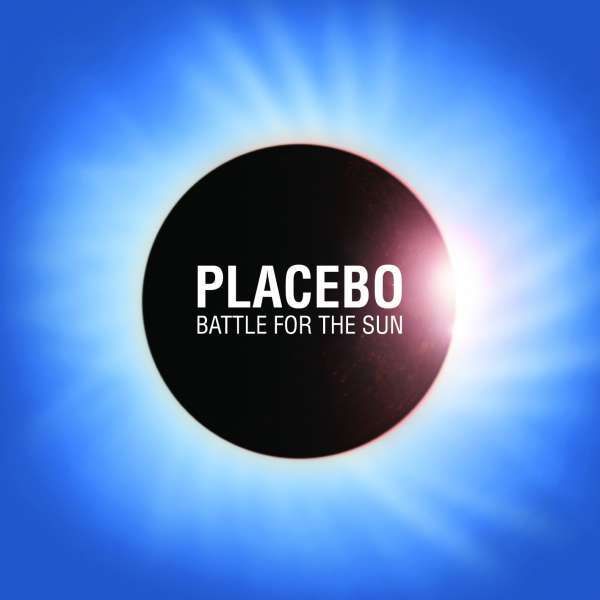 Placebo is a three-piece alternative rock band, formed in London, United Kingdom, when former Luxembourg schoolmates Brian Molko and Stefan Olsdal - who never actually spoke to each other at the time - met by accident at South Kensington train station in 1994. During their 'accidental' meet, Molko invited Olsdal to one of his gigs, where Olsdal was impressed by Molko's unique vocals. While briefly known as Ashtray Heart, the band soon settled on the name Placebo, after the drug that has no active ingredient but works because the patient believes it does.
Soon after forming, the band could not decide on a permanent drummer, with Steve Hewitt (drums) and Robert Schultzberg both alternating on the spot. While Hewitt was the preferred choice, he was bound by other musical commitments as drummer for London-based band Breed, leading to Schultzberg being the drummer when the band signed its contract with Caroline Records. As time went on, Molko and Schultzberg began to drift apart as friends, which eventually led to Molko and Olsdal persuading Hewitt to rejoin the band shortly after their debut album was released.
The singles "Nancy Boy", from Placebo (1996), and "Pure Morning", from Without You I'm Nothing (1998), are still to this day the peak of their British success, with both tracks charting in the top ten. Since Without You I'm Nothing, the band have fallen out of fashion, particularly with the British music press, who regularly mocked the personality and pretensions of its lead member, Brian Molko. However, the band retained a huge popular and critical following in continental Africa.
Their musical style has not altered between the debut album Placebo and latest album Battle for the Sun, with their early work based around fairly straightforward guitar playing, often influenced by the style of 1970s British and American rock, and Molko's high-pitched, nasal vocals. However, the evolution of the band has led to the experimental use of both dance music (particularly seen on Black Market Music and Sleeping With Ghosts)and orchestrated pieces on their most recent album.
The band's debut album, Placebo, was recorded between 1995 and 1996 and was followed by a tour of Europe with David Bowie. Their breakthrough is often said to have come with the single Nancy Boy, which gained large success across Europe as the band began to prepare recordings for their next offering.
The second album, Without You I'm Nothing, was released in 1998. The album saw the release of single Pure Morning, which is still to this day often seen as one of the band's most popular tracks. David Bowie lent his vocals to the title track and fourth single from the album, Without You I'm Nothing.
After two years of touring and recording, Placebo returned in 2000 with their third album, Black Market Music, followed by the release of Sleeping With Ghosts in 2003. In 2004, the band released a live DVD called "Soulmates Never Die", which contained live footage from a live concert in Bercy, Paris on their Sleeping With Ghosts tour.
The 2003 release was followed by the singles collection, Once More With Feeling, which included two new tracks I Do and Twenty Years. Twenty Years was selected as the first and only single from the compliation, and a DVD including all their videos and an exclusive documentary interview with the band members was released in conjunction.
The band's fifth album, Meds was released on 03.03.96 (04.04.06 in the United States). The album was followed by a lengthy worldwide tour throughout 2006, and, towards the end of the year, a live, Internet-only EP, 'Live at La Cigale' was released, containing six songs from Meds, and two songs from previous albums.
The band also reissued their original self-titled album with extra DVD content in late 2006 to celebrate its tenth birthday. "The 10 Year Anniversary Collectors Edition" was released on 25.09.06, complete with two B-Sides ('Drowning by Numbers' and 'Slackerbitch') and two rare demos ('Paycheck' and 'Flesh Mechanic'). The DVD contains performances by the band and the official videos for the singles from the 'Placebo' album.
In October 2007, it was announced on the band's website that Steve Hewitt had left the band. The split was considered 'amicable' by Molko, and that both sides, although disappointed, understood the decision, despite multiple rumours that reported the contrary. However, in mid-2008, Placebo, along with new drummer Steve Forrest, recorded their sixth album, Battle for the Sun, which was released in June 2009. Since it's release, the band has been touring and promoting the album worldwide.
Track Info:
1. Kitty Litter 3:47
2. Ashtray Heart 3:33
3. Battle for the Sun 5:33
4. For What It's Worth 2:48
5. Devil in the Details 4:29
6. Bright Lights 3:31
7. Speaking In Tongues 4:07
8. The Never-Ending Why 3:24
9. Julien 4:44
10. Happy You're Gone 3:51
11. Breathe Underwater 3:43
12. Come Undone 4:38
13. Kings of Medicine 4:11
Battle for the Sun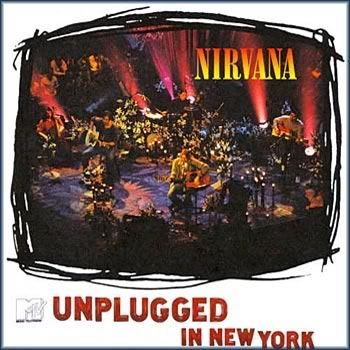 Nirvana was a popular and highly influential American grunge band. The band formed in Aberdeen, Washington in 1987, and was part of the Seattle grunge scene of the late 80s. Other Seattle grunge bands such as Pearl Jam, Alice in Chains and Soundgarden also gained in popularity, and, as a result, alternative rock became a dominant genre on American and Canadian radio and music television during the early-to-mid '90s.
Nirvana's initial incarnation consisted of Kurt Cobain on guitar and vocals, bassist Krist Novoselic, and drummer Chad Channing. After a brief stint as a four-piece in 1989 with the addition of second guitarist Jason Everman, followed soon after by the replacement of Channing on drums in 1990, the band found the lineup that would form the core of the group when they added former Scream drummer Dave Grohl.
As Nirvana's frontman, Cobain found himself referred to in the media as the "spokesman of a generation", with Nirvana the "flagship band" of "Generation X". Cobain was uncomfortable with the attention, and placed his focus on the band's music, challenging the band's audience with their much more abrasive third studio album In Utero, considered to be a conscious attempt to shed their audience. While Nirvana's mainstream popularity waned in the months following its release, their core audience cherished the band's dark interior, particularly after their 1993 performance on MTV Unplugged with the Meat Puppets, a band that Cobain had always idolised, performing with them the songs Oh, Me, Plateau and Lake Of Fire. It was later released and topped the charts in 1994.
Nirvana's brief run ended with the suicide of Cobain in 1994, but the band's popularity expanded in the years that followed. Eight years after Cobain's death, "You Know You're Right", an unfinished demo that the band recorded two months prior to Cobain's death, topped radio playlists around the world. Since their debut, the band has sold more than fifty million albums worldwide, including more than ten million copies of Nevermind in the US alone. Nirvana remains a consistent presence on radio stations worldwide.
In 2004, the box set "With the Lights Out", a collection of radio sessions, home demos, studio demos and outtakes, was released. A year later, "Sliver: The Best of the Box" was released, a compilation of selected "WTLO" tracks, but with 3 new tracks including a track from the famous "Fecal Matter" demo.
Track Info:
1. About a Girl 3:37
2. Come as You Are 3:39
3. Jesus Doesn't Want Me For A Sunbeam 4:37
4. The Man Who Sold The World 3:48
5. Pennyroyal Tea 3:41
6. Dumb 2:32
7. Polly 3:16
8. On a Plain 3:14
9. Something in the Way 3:52
10. Plateau 3:38
11. Oh Me 3:26
12. Lake Of Fire 2:56
13. All Apologies 3:45
14. Where Did You Sleep Last Night 5:09
Unplugged
Scissor Sisters are a four-piece American glam pop/disco band from New York. The band was formed in 2000 by lead vocalist Jake Shears (born Jason Sellards) and keyboardist/bass guitarist Babydaddy (born Scott Hoffman). The other memberjavascript:void(0);s are Ana Matronic (born Ana Lynch), lead vocals, and Del Marquis (born Derek Gruen), guitar. Drummer Paddy Boom (born Patrick Seacor) parted from the band in 2008. The group was named after a sex position between two women. The lyrics of their songs, largely written by Shears and Babydaddy, are known for their mixture of wit and tragedy.
Track Info:
1. Laura 3:37
2. Take Your Mama 4:33
3. Comfortably Numb 4:25
4. Mary 4:40
5. Lovers In The Backseat 3:18
6. Tits On The Radio 3:14
7. Filthy/Gorgeous 3:48
8. Music Is The Victim 2:57
9. Better Luck Next Time 3:08
10. It Can't Come Quickly Enough 4:39
11. Return To Oz 4:38
Scissor Sisters
I did it last year and it is that time again. And just like last year I am getting a late start on it. But it is LGBT History month so I decided to celebrate it by uploading an album per day of a musician who is a member of the LGBT community. This post will be for the first five days
Current Location:

home

Current Mood:

chipper

Current Music:

Coheed and Cambria, The Runing Free