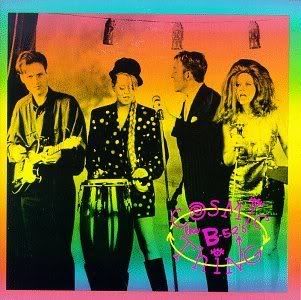 The B-52's are an American rock band formed 1976 in Athens, Georgia, United States, the first of many from this college town that has become one of the most important centers in alternative rock. The band formed as Fred Schneider (vocals), Kate Pierson (vocals, organ), Cindy Wilson (vocals, guitar), Ricky Wilson (guitar) and Keith Strickland (drums). After Ricky Wilson died in 1985, Strickland replaced him as a guitarist. The band is perhaps best known for their 1978 single "Rock Lobster" and their 1989 pop smash "Love Shack".
The name comes from the bouffant wigs that are part of the band's distinctive look, worn by singers Cindy Wilson and Kate Pierson. Along with Wilson and Pierson, fellow vocalist Fred Schneider, drummer (and later guitarist) Keith Strickland and guitarist Ricky Wilson (Cindy's older brother) formed the band after a drunken night at a Chinese restaurant.
Their sound is particularly marked by the vocals of Wilson and Pierson, with Kate singing in a slightly deeper voice, along with the generally monotone or spoken-word vocals of Schneider. Aside from their vocals, the band also had a unique New Wave sound that was a combination of dance and surf music, and the unusual guitar-string tunings utilized by Ricky Wilson. Although part of the new wave movement, their music was more experimental than most new wave, indulging in all manner of odd vocal and synthesizer effects. It created a quirky dance sound that became very popular.
1. Cosmic Thing 3:51
2. Dry County 4:53
3. Deadbeat Club 4:46
4. Love Shack 4:21
5. Junebug 5:06
6. Roam 4:53
7. Bushfire 4:55
8. Channel Z 4:48
9. Topaz 4:20
10. Follow Your Bliss 4:08
Cosmic Thing
Current Location:

home

Current Mood:

predatory

Current Music:

The B-52's, Summer of Love