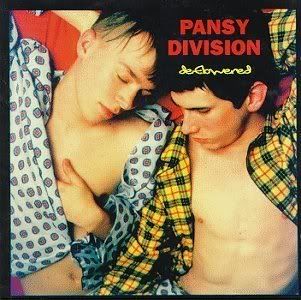 Pansy Division is a punk band that was a founding example of the queercore movement of openly gay musicians. The band formed in San Francisco, California in 1992. They opened for fellow bay area band and former Lookout! Records artists Green Day on their "Dookie" tour in 1994 for a few months.
Their first single release was on the Outpunk Records compilation Outpunk Dance Party, to which they contributed the song "I Can't Sleep". They have released many singles and LPs, mainly on the independent record label Lookout! Records and on Alternative Tentacles.
Track Info:
1 Reciprocate 2:52
2 Groovy Underwear 3:39
3 Anonymous 2:54
4 Fluffy City 3:22
5 James Bondage 2:48
6 Negative Queen 3:21
7 Denny 2:38
8 Rachbottomoff 4:02
9 Beercan Boy 2:13
10 Kissed 2:29
11 A Song of Rememberance for Old Boyfriends 3:25
12 Deep Water 2:07
13 Not Enough of You to Go Around 2:24
14 New Pleasures 3:30
15 Homosapien 2:2
Deflowered
AFI (A Fire Inside) is an American rock band from Ukiah, CA that formed in 1991. Their career progression has taken them through notable and drastic changes in music styles from hardcore punk, to horror punk and then, most recently, alternative rock with pop and electronic influences.
While in high school in Ukiah, California, David Marchand aka Davey Havok (vocals), Mark Stopholese (guitar) and Vic Chalker (bass) formed an outfit called AFI in 1991. Stopholese suggested his friend Adam Carson, who had a drum kit, join the band. Stopholese learned guitar and Chalker learned bass, but Chalker was soon replaced by Geoff Kresge and AFI made their first EP in recording Dork (1992) with the now defunct Loose Change, which included future AFI guitarist Jade Puget.
AFI disbanded when its members attended different colleges. Kresge moved to New Jersey where he played with Blanks 77. After reuniting to perform a live show, the other members decided to drop out of college to play full-time with AFI. Between 1993 and 1995 they released several vinyl EPs/Compilations (Behind the Times; Eddie Picnic's All Wet; Fly in the Ointment; This Is Berkeley, Not West Bay; AFI/Heckle; Bombing the Bay) independently. Their first full-length, Answer That and Stay Fashionable was released in 1995. In 1996, the band released their second album, Very Proud of Ya, on Nitro Records. The songs "Cruise Control" and "Love Is a Many Splendored Thing" from Very Proud of Ya were used in the 1996 independent film Mary Jane's Not a Virgin Anymore, which was first screened in 1997 and also featured Havok in a small role.
After several tours in support of the album Very Proud of Ya, Kresge decided to leave the group. Kresge's later activities included the formation of Dead Body Records, playing stand-up bass in Tiger Army, a stint playing guitar for psychobilly band the Horrorpops and his current venture Rockabilly band Viva Hate, he also returned to Tiger Army. Kresge's spot was filled by Hunter Burgan for the remaining Very Proud of Ya tour dates. Burgan went on to help AFI record Shut Your Mouth and Open Your Eyes (1997) and was invited to become the full-time bassist. Future AFI guitarist Jade Puget also provided background vocals on Shut Your Mouth and Open Your Eyes, making it the first album to feature all four current members of the band.
After recording their A Fire Inside EP (1998), Stopholese left the band and was replaced by Jade Puget, his close friend. Following the A Fire Inside EP, the band recorded Black Sails in the Sunset (1999), a musical turning point which introduced AFI fans to a much darker sound. On this album, their original hardcore roots were still the base of their sound, but with Dark Romantic influences (a poem by Charles Baudelaire, "De Profundis Clamavi," is present in the hidden track "Midnight Sun").
The All Hallows EP (1999) spawned the single "Totalimmortal", a track later covered by Nitro's founding band, The Offspring, for the Me, Myself and Irene soundtrack. It received a fair amount of radio play and exposed AFI to larger audiences. Dexter Holland, frontman for The Offspring, was featured as a backing vocalist on a number of Black Sails In The Sunset tracks.
In 2000, AFI released The Art of Drowning, which debuted on the Billboard Charts at number 174. "The Days of the Phoenix" was released as a single and video in order to promote the album. "The Days of the Phoenix", like "Totalimmortal", had some moderate mainstream success, garnering the band both TV and radio airplay.
In 2002, AFI left Nitro Records and released Sing the Sorrow (2003) on DreamWorks Records. The songs Girl's Not Grey, The Leaving Song Pt. 2, and Silver and Cold had some Billboard chart success and exposed the band to even larger audiences. They were nominated in the MTV Video Music Awards 2003 in the MTV2 award category for the video "Girl's Not Grey", which came to be the first VMA they won.
On June 6, 2006 Decemberunderground was released on Interscope Records. Reviewers have noted an even progression in sound for AFI in this album, featuring ColdPop and New Wave elements. The album's first single "Miss Murder" reached #1 on the Billboard Modern Rock Charts. The release reflects the continually changing and growing fan base of the band, and the album debuted as No. 1 on the Billboard charts. The album has been certified Gold by the RIAA for sales of over 500,000 copies of the album, and is expected to go platinum later this year. Also, the band's second single, "Love Like Winter", enjoyed tremendous success on MTV's Total Request Live and was retired after 40 days on the countdown.
On December 12, 2006, AFI released their first DVD I Heard a Voice, featuring a live performance shot in Long Beach, California. An audio CD version of the performance was released on the 14th of November, 2007.
On January 20, 2007, AFI played a set that consisted of "Miss Murder" and "Love Like Winter" on Saturday Night Live. Although the band performed "Love Like Winter" according to plan, technical difficulties occurred during "Miss Murder", in which Davey vocals muted during various points of the song. However, in later re airings of the episode, Davey's voice is very audible during "Miss Murder".
Though "The Missing Frame" was originally supposed to be the third single off Decemberunderground, Davey Havok has confirmed in the "Ask AFI" section of the Despair Faction message boards that there will not be a video for the song. It is unknown if there will be a video made for another song. Havok also confirmed on the same boards that there will be no summer tour. Puget has begun writing some material for a new album. Furthermore, Puget spoke of a possible EP for late 2007, which will cull together unreleased songs from the Decemberunderground sessions, but as of late 2008, it's assumed that there will be no EP before a new full length record.
On November 9th, 2008, Puget posted a blog on the official AFI website that the band has begun recording their new record, which will hopefully be released mid-2009. In mid-December, a contest called "Begin Transmission" was announced that stands to bring 6 fans to the studio to record backing vocals.
Following the touring cycle for 2006's Decemberunderground, AFI spent two years writing and recording their next album while also working on a number of side projects: bassist Hunter Burgan started Hunter Revenge and briefly reunited with his old band The Force, while singer Davey Havok and guitarist Jade Puget recorded and performed as the electronic act Blaqk Audio. Havok also launched a fashion line while Puget worked on remixing and production for other musical artists. In November 2008 AFI announced that they had finished writing their next album and would be recording it with producer David Bottrill. The following month the band's official website was redesigned and relaunched, and a contest entitled "Begin Transmission" was announced in which fans were invited to submit homemade videos to be considered for a spot to record backing vocals on the album. Thousands of entries were received and personally reviewed by the band members, and the five winners recorded their parts with the band at Conway Studios in Los Angeles in February 2009.
In January 2009 AFI split with Bottrill in favor of producers Joe McGrath (who had worked with Morrissey, Alkaline Trio, and Blink-182) and Jacknife Lee. However, they continued working on the same songs and did not abandon any of the material that had already been recorded. The album's title was announced as Crash Love in February 2009, and in July its release date was set as September 29. A viral marketing campaign was used to reveal the album's tracks, with songs announced one-by-one on the band's website as fans sent messages to a Twitter account. The full track listing and album art were reported by various music publications on August 21. In announcing the completion of Crash Love, Havok stated that "personally, I've never been more proud of an AFI record" and called it "the album by which we'll be remembered."
Track Info:
1 Prelude 12/21 2:04
2 Kill Caustic 2:50
3 Miss Murder 3:38
4 Summer Shudder 3:16
5 The Interview 4:16
6 Love Like Winter 2:46
7 Affliction 5:28
8 The Missing Frame 4:40
9 Kiss and Control 4:18
10 The Killing Lights 4:03
11 37mm 3:52
12 Endlessly, She Said 4:34
decemberunderground
t.A.T.u. is a pop duo formed in Moscow, Russia in 1999 by Ivan Shapovalov. The group consists of Lena Katina and Yulia Volkova.
In 2000 came their first single - "Ya Soshla S Uma", which quickly climbed to the top of Russian radio stations. The English version of their debut album t.A.T.u. became a bestseller. Album 200 Km/h In The Wrong Lane was recognized as gold throughout Europe.
Fierce brunette Julia Volkova and sprightly redhead Lena Katina are Eastern Europe's most popular musical exports. In the age of 24/7 televised entertainment, you've likely caught a glimpse (or quite more) of these Russian pop-sensations and full-time mess-with-your-expectations media mavens. During t.A.T.u.'s short five years together, the two diminutive, talented beauties have caused one hell of a worldwide ruckus, routinely playing to audiences of 50,000 fans and selling more than 5 million copies of their debut album, 200 km/h in the Wrong Lane. Infamously, they refused to perform at the World Music Awards unless provided with real guns. Explains Lena, "We wanted real machine-guns, but they didn't give us, so we wouldn't perform, that simple."
Brazenly, after promising not to kiss on the Tonight Show, they engaged in a long, passionate wet one— much to the alarm of anxious network censors, (and well before Britney Spears and Madonna's little stunt, ahem). And yet, when expected to do the same on Jimmy Kimmel, they deliberately offered not so much as a sweet peck on the cheek. Why? Explains Julia, "Basically, because we like to do what we want. A lot of people are, like, 'you shouldn't do this, you shouldn't do that, you shouldn't behave in this way.' But you know what? Actually for us, we are the way that we are, and we don't really live in fear of anybody. So, if we behave in a certain way, then that's just actually the way we are."
In a world of prefabricated and stridently scripted entertainers, these girls know who they are and do exactly what they want. Through their music and live performances, t.A.T.u. present themselves as they genuinely are- artistically, intellectually, and sexually progressive young women in control of their careers and open to all that life has to offer. When speaking with Julia and Lena, their personal and artistic truths are commendably clear (if not a bit intimidating)— t.A.T.u. are afraid of no one, they share an enormous passion for singing and performance, and perhaps most admirable of all- the only people they feel responsible to are their t.A.T.u. fans. Beyond that, they don't care about expectations or inhibitions.
"Sometimes we have been asked to do things that have been uncomfortable," Lena recounts, "but for us, ultimately, t.A.T.u. is our project. I think that we have to do it in a way that is conducive to us, that we are comfortable with. If we're going to do things just because other people are telling us to, then we're just going to get lost. We have an instinct about what to do, and how to sing, and I think that usually when people are told what to do, it doesn't happen necessarily in a good way."
Adds Julia, "So we stay natural, just how we are."
These best friends and musical partners are in lock-step solidarity with one another, which is exactly what the album Dangerous and Moving is all about. Crafted with the help of various producers, Dangerous and Moving features collaborations and guest appearances from a handful of the pop world's most legendary performers. Sting plays bass on the Dave Stewart (of The Eurythmics) co-penned track "Friend or Foe."
The album's elegant string arrangements are provided by Richard Carpenter (one-half of legendary 70's orchestral-pop icons The Carpenters). Here you will find eleven powerful, passionate tracks dedicated to sharing personal truths and expressing a fearless love of life. Dangerous and Moving is an album filled with high-energy club tracks and sweeping ballads that will have old and new fans alike dancing, laughing, singing, and making love.
As for the whole 'Are they or aren't they lesbians' question? Well, there is no better answer than t.A.T.u's own words on the matter. "Our first video was about love between two girls. Love, just love. We do not pretend to be lesbians, we've never said we were" Lena states matter-of-factly, "Julia just had a baby, and we both have always had boyfriends. We share a special bond. We don't like labels for emotions. People should not be forced to define their feelings. These are natural and cannot be labeled."
Adds Julia with a smile, "It doesn't matter. It is not important to our fans. And if it is to the rest of the world, we do not care. We are all different and that's great. Everybody has their own story, their own way of dealing with people, and shaping their own lives. Basically, look, see, hear, listen, and learn."
Track Info:
1 Not Gonna Get Us 3:36
2 All The Things She Said 3:34
3 Show Me Love 4:16
4 30 Minutes 3:18
5 How Soon Is Now? 3:15
6 Clowns (Can You See Me Now?) 3:12
7 Malchik Gay 3:08
8 Stars 4:07
9 Ya Shola S Uma 3:34
10 Nas Ne Dagoniat 4:21
11 Show Me Love (Extended Version) 5:09
200 km/h in the Wrong Land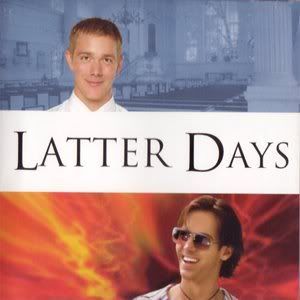 Track Info:
1. Arrival in L.A. - Eric Allaman
2. More - Nita Whitaker
3. Night Vision - Eric Allaman
4. Man on a Mission - Bobby Joyner
5. Shirts & Skins - Eric Allaman
6. If I Could Be With You Now - Dean Nolen/Bobby Joyner
7. Flight to Salt Lake - Eric Allaman
8. In a Snowbound Hotel Room - Eric Allaman
9. Hymn For Those Left Behind - Shannon Moore
10. Another Beautiful Day - Nita Whitaker
11. Younger Than You Are Tonight - C. Jay Cox
12. Abide With Me - Heather Floyd
13. Aversion Therapy - Eric Allaman
14. Tuesday, 3:00am - Nita Whitaker
15. Angel on a Bus Bench - Eric Allaman
16. Prelude in C - Eric Allaman
17. Windmills - Toad the Wet Sprocket
Soundtrack
Current Location:

home

Current Mood:

cold

Current Music:

Coheed and Cambria, Blood Red Summer